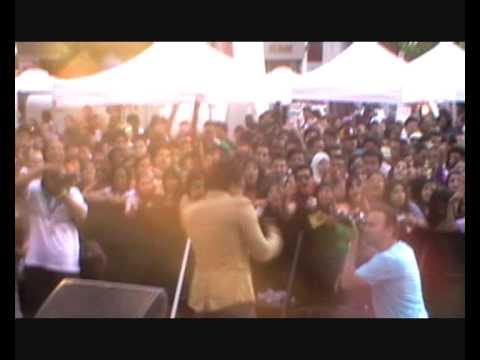 After experiencing the RBC desiFEST (presented by Rogers), Canada's ONLY national South Asian free music concert, in Toronto on Saturday 29 May, I was desiFIED! The talent these artists have, combined with the massive amount of preparation by the organizers truly came to fruition during this 12 hour extravaganza in Toronto's Yonge-Dundas Square!
For the fourth year in a row, desiFEST, which is a production of Blueband Musiq and RBC, wants everyone to get "desi-FIED" as it celebrates the pioneers of Indian fusion music. And as promised, desiFEST featured contemporary indo-jazz fusion, global beats and cutting edge performances from Roach Killa, King Roti, Naomi Zaman, Shweta, Bollywood Booz, Farid, The Blitz and Kashif, Destiny, Zameer, Parichay, Prita Chhabra, Black Mahal, Luv Randhawa, Shahid Ali Khan and my personal favorite … joining them from the UK for the very first time Navin Kundra!
Watching Navin live from the media box was mind-blowing! I've watched his performances via online, but I will tell you this, there is nothing that compares to seeing him onstage in person! He is not only passionate about what he does, but he draws the crowd in and takes them along on his amazing journey. Watching him work the crowd with his endless amount of energy and hearing his voice loud and clear over the entire square, while the background video flashed on the giant screen was nothing short of breathtaking!
I was careful to pay attention to the reaction of the crowd as well, not only the screaming but the comments as everyone was really getting into it. "He has such an amazing voice. " "He is so talented." "Energetic!" "He's got the moves too!" "OMG, what a voice!" During his slower love song Tere Liye … "His voice is so soothing." "Where can we get his music?" In fact one of the volunteers came running over and sat beside me when Navin first came out and said, "OMG, who is this guy, he's amazing!" So without losing anytime, I said, "none other than Navin Kundra and you should really get to know him!"
Even the other photographers and videographers were trying to get as many shots as possible, following him as he came down off the stage and walked over to the frenzied crowd. He got everyone involved with his song Mehbooba, seeing which side of the square could sing the loudest and gave out his CD to several of the waiting hands.
He surprised everyone by singing his new unreleased song Jee Le and judging from the reaction, it is going to be this summer's hottest track, so watch for it!
When his set was done, he did photo shoots and interviews before being called back on stage to sing with Roach Killa, where they rocked the crowd once again.
The icing on the cake as they say, for me, was the exclusive one-on-one interview I was privileged to conduct later on that night. Humble, down-to-earth, funny, honest and kind are just some of the qualities Navin possesses. After exuding all the energy he had on stage, he graciously took the time to sit down and answer all my questions. But rather than an interview, it was like talking to a friend that I had known for a long time. There was nothing mechanical about it, we were even joking, etc. There are no airs about this man either. He will not just answer questions with one or two word answers just to get on to the next one. Rather, he thinks about what he wants to say, and shares the things that are most important to him, which is refreshing. What I also appreciate about Navin is how candid he is with his answers, as you will see in the following interview. ENJOY!
ICB – Good Evening Navin. How are you?
Navin – I'm fine, how are you?
ICB – I'm well thank you. Can you believe we're in Canada?
Navin – I know it's crazy!
ICB – It is a pleasure to welcome you back to I Crave Bollywood. Congratulations on your success so far and for your new soon-to-be released single Jee Le that we had the thrill of hearing tonight!
Navin – Thank you.
ICB – You're in the process of releasing your new song Jee Le. Can tell us about it and how it came about?
Navin – Jee Le came about at a time when I put out Love Thing, Tere Liye and Mehbooba, and I thought that rather than do the same thing, I wanted to go back in the studio and do something new and fresh. So I've completely redesigned my look and the music as well.
There is a saying in Latin, "Carpe Diem" or "Seize the day." And that is the essence of Jee Le. It's all about living life to the fullest, chasing your dreams, and making every moment count. You know a lot of people take life for granted and they don't do this. I just had an interview at the event and the woman asked me, well what does living to the fullest mean? So I asked her, are you happy? And she said yes. I said ok, well are you doing everything you've ever wanted to do in life, living it to the fullest? And she said no, not really. I said well what is it that you would really like to do? She said I want to do this and that. Then I said to her, that's what living life to the fullest is – that's the difference. Jee Le has that energy in it, so I am very excited to be releasing it. It's something that's not specifically love related, although it is a bit of a love song.
ICB – Well the crowd certainly loved it!
Navin – Yeah, it was a really good reaction! I was kind of toying with the idea of whether to play it or not and then I thought, we're nearly going to drop it, so let's go out there and premiere it!
ICB – And we are so glad that you chose tonight to do so!
You have an interesting way for your fans to interact with you – encouraging them to videotape themselves singing your songs and send them to you on Facebook. What has been the response?
Navin – It's been good, although I haven't really encouraged much of that to be honest. I think I might do that now though. Fans have started doing that themselves and sending them to me and I think it is so great because I look at them and I say that was me a few years ago. And I still do that; when there is a good song, I cover it. Then to have people do that with my songs is an amazing feeling, so it's like coming full circle, which is really beautiful. And in the new video I've done a bit of dancing.
ICB – Really? Wow!
Navin – Yeah, I thought I'd try it out. So I don't know, maybe we'll have people posting videos of them doing the routine if they think it's cool enough. Because they might be like, no this is whack, Navin it's not happening, just stick to singing, don't move. (Laughs)
ICB – Well judging from the reaction to your smooth dance moves tonight, I'd say the audience will be with you on this one.
Any plans in the future to cross-over from Indian music to English music?
Navin – It's nothing that I've really planned but it's inevitable that it will happen because I sing in all three languages (Hindi, Punjabi and English). I've written some songs in English that I'd like to record, but it's difficult because when the project is designed in this way, to do English music, it has to be in a way that will be accepted by my current audience and then also spill over. I don't want to alienate or neglect the people who have supported me.
ICB – So, what else are you passionate about now and what's on the horizon?
Navin – Well immediately there is the new single, which I'm really passionate about and I hope the audience receives it with as much love as I've prepared it for them. There'll be a lot more touring, more international events would be good because I love to take my music around the world and meet new people. It's great and it's a different flavor in every country. It's been fantastic. This last month I've been to Denmark, Holland and here in Canada. There will be many more live performances, new material, and some collaboration as well, so I'm psyched!
ICB – Great! Well we will certainly be looking forward to that and following you along as well.
What is the best advice you've ever received and by whom?
Navin – I've received a lot of good advice actually. My dad always gives good advice – "Keep your feet on the ground, keep it real." For artists there is my mentor Pandit Dineshji who told me to "look after your art and it will look after you." It's something which I would pass on to any artist, because at the end of the day that's what you're there for.
ICB – In essence you get out of it what you put into it.
Navin – Yes and it's kind of difficult sometimes. I've come to realize that all the hard work I did in the beginning in terms of training my voice, practicing and rehearsing, it's just so worth it. This is especially true because you don't have time on the road. You can't sing and practice when you're traveling or in the hotel room, on the street or back stage; so all of the inner grounding helps. You've done it upfront and then it's just maintenance. It's a bit like body-building. When you're trying to get the body that you want, you work really, really hard. And then when you get it, you just need to do a bit to maintain it, tweak it up, so it's kind of the same.
ICB – Perfect analogy.
Nicest compliment from a fan?
Navin – Oh there have been so many lovely compliments. I have fans that have used my songs to propose, to break up and get help through the difficult times in their lives and that's a huge compliment. And then it is a big compliment when someone comes up to me and says I really appreciate what you're doing, thanks for representing. Every fan compliment is special to me.
ICB – If you were granted three wishes, what would they be?
Navin – I probably would want just one wish and that would be to have more wishes.
ICB – Oh very smooth. One interesting thing that most people don't know about you.
Navin – I like to walk on my hands a lot. It is a bit strange.
ICB – Do you get a lot of headaches doing that sort of thing?
Navin – Yes. I don't do it as much now but I used to do it a lot as a kid.
ICB – Three things you can't live without?
Navin – Family, music, and hmmm, I don't know. See I could say the typical things like my mobile phone, my guitar and this, that or the other, but family, music and the people I love are the most important things in the end. I don't need much, so it's kind of cool.
ICB – What is your favorite part of the day and why?
Navin – That is a very good question. Morning is, but not too early, because that's the beginning of a new journey. Every day there is always something new happening. And I like waking up and saying, what's going to happen today. But not if it's too early because then I just want to go back to sleep. But that's definitely the most exciting part.
ICB – Please complete the following sentences –
Well the first question was going to be – My secret talent is … but you kind of answered that with the fact that you like to walk on your hands. Do you have any other secret talents you'd like to reveal?
Navin – I have a few but I don't want to reveal them yet. I will over the course of my career.
ICB – I love watching…
Navin – movies
ICB – I cry when…
Navin – I see someone in pain.
ICB – The most important thing my mum taught me is…
Navin – I don't know. She's taught me so much. Everything that mum says is really important, we could be here all day. (Laughs) I guess it would be to listen to her.
ICB – Good answer! The most important thing my dad taught me is…
Navin – Dad is responsible for a lot of things. He's taught me too much to complete a sentence with. I think to stay focused would be the important thing. Dad's helped me a lot and he's always supporting me.
ICB – You have a very supportive family too.
Navin – Yes I do.
ICB – Something that is particularly annoying to me is…
Navin – Traffic!
ICB – Traffic?
Navin – Oh man it makes me so angry. It's such a waste of time.
ICB – It's too bad we couldn't fly over the whole thing right?
Navin – Yeah. (Laughs)
ICB – Anything you'd like to add?
Navin – To my fans and the readers of your site – a massive thank you for everything. I really do believe it's not about the destination, it's about the journey. I'm having a good time and I hope everyone else. And as long as they are here with me, I'll keep making music and try to give them a reason to stay on board and I hope they enjoy it as much as I do.
ICB – I know I'm enjoying the journey.
Navin – Great! And don't forget to check out the new single.
ICB – Yes of course. Do we have a release date for Jee Le?
Navin – It will release this summer. Basically what's happening, we shot the video and I'm just getting a few final things done to it, a few tweaks to the mix, but the song is all recorded. I just wanted with this one for things to come out together because in the past the song came out and the video a long time afterwards and I didn't want to do it that way with this single.
ICB – Well thank you so much Navin for taking this time to be with us for the interview. You had an amazing show tonight that we enjoyed thoroughly and it was great to have this fun yet candid interview with you.
Navin – Thank you!
Check out the photos of Navin @ desiFEST 2010!